15:38 Monday 15 October 2018 JST
Dang marbletrack3.com is broken now. Netlify created the SSL cert and neither of my browsers like it.
I will switch back to hosting on Dreamhost if Netlify cannot sort it out.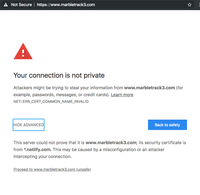 I have created a support ticket with Netlify.
And to think I was about ready to shift all my static sites over.